I got on the scale yesterday morning.
123.5 lbs.
Maintaining from vacation.
Got on the scale yesterday morning after eating breakfast.
122 lbs.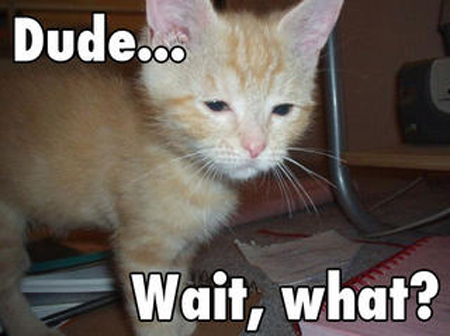 Move scale to new location in bathroom.
127 lbs.
Move it back to 'ole standby location.
128 lbs.
What? I hiss when angered. Doesn't everybody?
What. The. Fuck.
I'm moving in a month.
I can't justify buying a brand new scale right before the move.
I'm broke until the end of this month. I need to save money for bills and important shit.
BUT MOTHERFUCKING GODDAMMIT, MY SCALE BEING INACCURATE IS IMPORTANT SHIT.
POSSIBLY THE
MOST
IMPORTANT SHIT OF ALL.
I got on the scale again today.
123 lbs.
After breakfast.
125 lbs.
Much more believable.
I'm hoping it was just having a bad day. And that everything will go back to normal.
Or else. Or else.... Or else I'll murder the damn thing. And then I'll be too terrified to buy a new scale.
B-b-because what if it's been wrong all this time?
What if I'm actually 127 lbs? And it's been 4 lbs off since the beginning?
Tricksing me with it's tricksy little tricks.
Le sigh.
I'm going to go curl up in a scale-induced fetal position of depression.
Not that I'm over-dramatic or anything...
A bientôt, lovelies.
- parisienne.love