Thank you all for the lovely comments on my last post! Makin' me blush!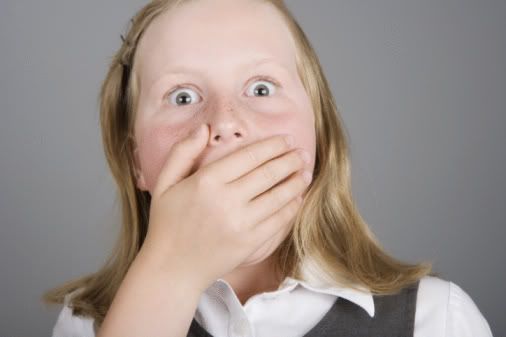 Could I have found a more attractive picture of someone blushing? Certainly.
But I feel like this tubby child is so much more appropriate.
You may or may not have noticed -
so I'll just tell you anyways
....
Yesterday I started a
food diary blog
. Because if there's
anything
I need more right now, it's another outlet for obsessing over what I eat. ;)
It's not super interesting yet, considering it only has one day of intake posted, haha. But the
plan
is that I'll update it daily with what I've eaten, because, y'know, that's why food diaries are effective.
I'm kind of light-headed and sleepy right now. The weather has been changing tremendously just within the course of the day and I'm always rather
delicate
when it comes to temperature change. Thus, I'm not able to come up with some creative segway into the actual topic of this post. So this is all you're getting as far as transitions are concerned. Awesome.
Lately, I've felt like someone in the witness protection program, minus the whole "I witnessed some horrible crime being committed and now the government is forcing me to change my identity so that I can testify at trial and not get shot between now and then" thing. Though, the constant anxiety that someone might notice me or, even worse, recognize me, when out in public - still thriving.
I go to college in my hometown. Thankfully, that's changing soon once we move to Miami, but in the meantime, I still live in constant worry that I'll see someone I knew from high school while walking around on campus - largely minding my own business.
Part of this fear stems from my weight gain during my first years of college. I graduated high school a year early, so while the rest of my classmates were finishing high school, I was living on campus, eating in the dining hall, and getting comfy with a new boytoy. Meaning,
rampant weight gain
.
Photographic evidence of Project Grad.
At least the sumo outfit hides my fat, haha.
It wasn't even something I was totally aware of at first. I knew that the number on the scale was rising, but I looked at myself everyday. I didn't realize that my weight gain was to the point that it had become visibly noticeable.
Then there was graduation. And after graduation, there was "Project Grad". The last "hurrah" with your classmates before everyone moved away for university, when in all actuality it was just meant to minimize the amount of drunken high school graduation parties in the 'burbs.
Who'd want to prevent this attractiveness?
I had been tanning in preparation for graduation. A chance to see my classmates that I hadn't seen in a year. A chance to show my ex what he was missing out on. A chance to be "College [parisienne.love]" instead of "High School [parisienne.love]".
I got my hair done. Highlights, hair cut, brow wax.
I was ready. I just... y'know, hadn't really buckled down and lost the weight that I had planned on.
Seriously, high school girls are bitches. The night began with me seeing everyone I hadn't seen in a year. I blathered on about college life, etc. etc. A pinnacle of high school desire, obviously.
It then progressed with whispers and gossiping behind my back about how much weight I'd gained since high school and how
f a t
I had gotten.
I spent the rest of the night as such. At least my hair was freshly done.
I attribute my current anxiety over seeing people I knew from high school to that night.
Recently, however, I've been in incognito mode. I've seen many acquaintances from high school around campus lately, and not a single person has recognized me.
To their credit, I do look much different than I did in high school. I used to have long blonde hair and now have a pixie cut and dark hair. Two lip piercings. Gauges. Fake hipster glasses because, c'mon, I have 20/20 vision but glasses are hot.
The fact that I can freely walk around my town without being noticed by anyone I know - such an amazing feeling. I feel like a rogue sneaking around in World of Warcraft. Or like Ezio in Assassin's Creed II when in incognito mode.
Oh god, revealing some of my nerd-dom...
And now that I've begun losing weight, the self-confidence that goes with it works wonders for preventing possible anxiety. Which I guess makes the moral of the story:
No, you'll never fully accept yourself while you're still a fat-ass. So just lose weight and once you look good, you'll finally feel good about yourself.
But that's not exactly the message I want to send. Though it might be true in my case, and in many others', I guess what I'm really trying to convey is...
IT'S FUCKING AWESOME TO FINALLY FEEL INVISIBLE BECAUSE I STILL HAVE INSECURITIES.
Plus, I get to pretend I'm a secret agent spy.
Fact: People you don't want to recognize you in public, can't notice you over your general awesomeness.
A bientôt, lovelies.
- parisienne.love